Blog Writing / Guest Post Blogging
Outsourced Blog Writing Services
Having a well written, well promoted blog on your website is an extremely powerful way to generate traffic from organic search and social media.  Making a blog successful takes a lot of time which is something most event marketing professionals are short on.  Whether you just need a hand topping off regular content to your existing blog, or you'd like a new blog added to your site, myZone is here for you.  We have a team of blogging experts that provide outsourced blog writing services to event professionals so you can focus on the many other parts of your event marketing plan.
Our Process
The first step is to developing a content strategy which includes things like defining your voice and a persona that best represents your brand.  We make sure we know everything about your customers including age, sex, geographic location, interests and related likes to ensure we can make an emotional connection with your audience.
We work with you to develop a content calendar and process so that our team plugs in nicely with yours.  We set up tools like Asana.com so you can see exactly what we're working on at all times and give feedback along the way.
Content is then produced by a professional writer with a degree in English, journalism or similar.
We then optimize each article for search keywords using tools like SEOPressor to make sure each post gets a perfect on page SEO score.
The article is then proofed by another one of our writers as we know well that even the best writers need a second opinion 😉
We then send it to our design team to integrate custom graphics and really make the blog post stand out as a quality piece of work that is visually appealing.
We then submit the article / blog post to you for approval and then make any edits as you require.
Posts are then published on your blog, and syndicated via HootSuite onto social media platforms like Facebook, Twitter, Linked-In and Instagram.
You then benefit from social / viral traffic to your site, and have a great new well optimized page of unique content that usually will rank quickly on Google for the keywords we've defined.
Costs for this service are typically cheaper than if you were to hire someone full time in-house, and you have the flexibility to scale up and down resources quickly based on what events you have coming up.  Our clients typical start with as little as one blog post per week to as many as two blog post per day.
Here's an example of one of the many event based blog posts we've written.  Get Ready for Unbuckled!
Think that outsourced blog writing services are for you?  Contact us for a free consultation and proposal.
Guest Post Blogging Services
Have an event that needs an additional push via social media and SEO?  Consider purchasing advertorial aka a "guest post blog" on clubZone.com or our network of related event discovery websites. We'll write a 500-1000 word, in-depth review on your event that people want to like and share. These posts can include anything from an in-depth review of your event, an artist bio, to interview excerpts, to important videos and photos. Here is an example of a recent advertorial post.
Advertorials will be posted on Facebook as well with an optional (paid) boost.
Advertorials nicely promote ticket sales in the right hand margin of the blog post page, and add deeper content to your event listing as well. Related blog posts can also help bring more traffic to your event, as customers make their way through the constantly growing clubZone blog. They also get exposure on the homepage of clubZone.
Blog posts can be extended out to our network of partner sites like Vancity Buzz and other high traffic blogs in your city.
Advertorial and guest post blogging is one of the best and safest ways to secure inbound links to your website when done properly with high value, relevant and unique content.  Want more detailed information on how guest post blogging can improve your search rankings, read this great (long) article here.
Price: Varies based on the type of post (hours required) and the number of sites you want to be syndicated on, but ranges from $200 – $1500 per post per site.
Examples: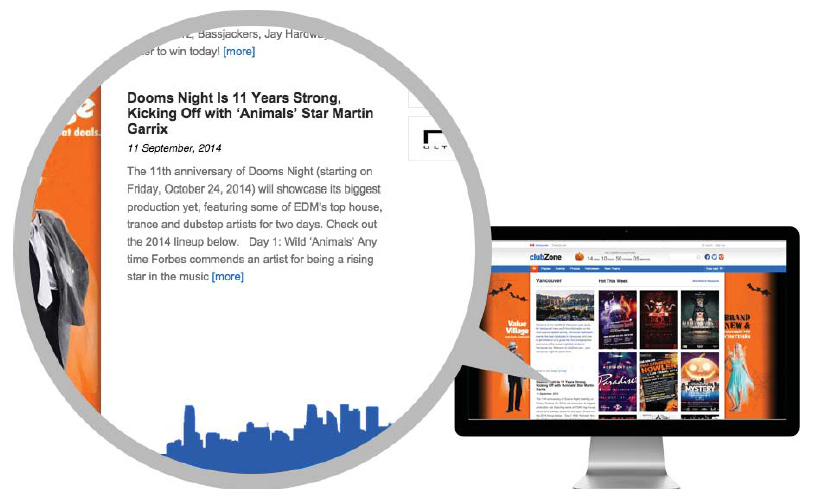 Let's Go!
Are you ready to start blogging with myZone?
Have more questions?
Contact a myZone Blogging Expert for more info!