An attractive, easy-to-use ticketing page boosts consumer confidence and ensures that your ticket buyer will follow through with their purchase. That's the key difference with ticketZone's white label ticketing. Our system meshes seamlessly with your site to help you sell more tickets!
So, What is White Labeling?
White label ticketing (also referred to as private label ticketing) enables you to have a ticketing or box office system on your own website without the hassle of hiring an IT team to create one for you.
Increase Site Traffic, But Retain Your Image
The term "white label" applies to a product created by one company (ticketZone) that another company (You) rebrands to match its aesthetic. We'll create a white label event page on our site that you can modify to match your brand identity–right down to color schemes, fonts and logos. When customers follow a link from your website to ours, it's like they never left yours.
Interesting fact: The term "white label" originally applied to vinyl records. Before public release, labels would send promotional records to DJs, often before artwork was finalized. These white labelled records were then given air time, increasing public interest and media buzz before release.
Build your brand: Keeping your brand consistent on all pages of your site looks more professional and maintains consumer confidence.

Sell more tickets: Increase eCommerce conversion rates by maintaining the look and feel of your site from arrival to check-out.  No redirects, no reloads, no confusion.

Free design: Sell over 5,000 tickets per year and we'll complete the white labeling design work–at no charge on your behalf.  For accounts <5,000 tickets, you can do it free with your own designer.
Lets Go!
Ready to get your own white label ticketing integrated with your website? Below is a step-by-step guide with screenshots to walk you through the process. If you get lost just look for the 
 icon.
1. To begin, head to your Client Dashboard. You'll find the link "White Label" in the left-hand sidebar. Click the link to sign-up for white labeling and begin customizing: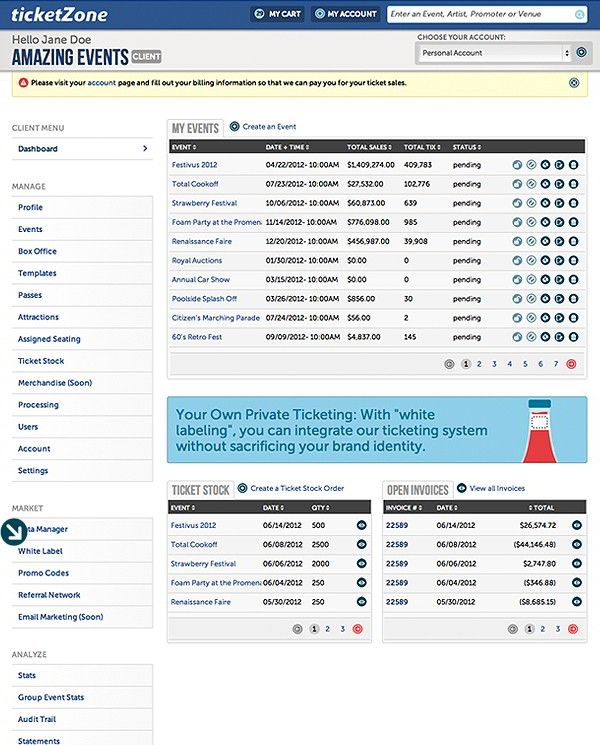 2. The "White Label" link in your dashboard will redirect you to a sign-up page. Read through additional information regarding white labeling here. Then click the red "Get Started" button to begin white labeling. 
3. You can now add HTML and CSS of your Client Profile. Add relevant banners to your header or footer. Create a custom URL to make it easier for customers to find your event page and to improve your page's SEO. Below these forms, you'll also find a list of all your current events. Click any of these event links to white label an event page using the same methods applied to your Client profile. 
Feel free to contact us, and one of our ticketing experts will walk you through the steps. To make the initial process even easier, sign up for a free ticketZone account through Facebook or our website to create a white label event page.
Get Started With Your Account
Once you create your ticketZone account, our step-by-step guide can help you integrate white label ticketing into your own website design. In just a few short steps, you can save your template to white label your event page.