4 Ways clubZone's SEO Efforts Can Boost Your Own Site Traffic
Since clubZone.com's inception in 2001, search engine optimization (SEO) has remained  one of our most important traffic sources. To date, about 70% of our incoming traffic comes from Google and other search engines.  So, making the new website better optimized for search was baked into the design from the ground up.
Through trial and error, we've discovered what SEO concepts work for us—and you can learn how to apply them to your own website. Read on to understand the changes we made, and how to gain more incoming traffic.
#1 Responsive Design
clubZone.com is now automatically optimized for any type of browser, meaning a visitor can come from anywhere (MAC or PC environment) on any device (iPhone, iPad, Android phone or tablet) and the site will render correctly.  Responsive design is great for users, and search engines rank well-designed responsive sites higher for many reasons.  If you want to learn more about how this works, check out this great article from Moz.com on how NOT making your site responsive today will hurt your bottom line tomorrow.
Test It Out
Want to see it for yourself?  Try shrinking your browser and watch how the site adjusts to your browser size.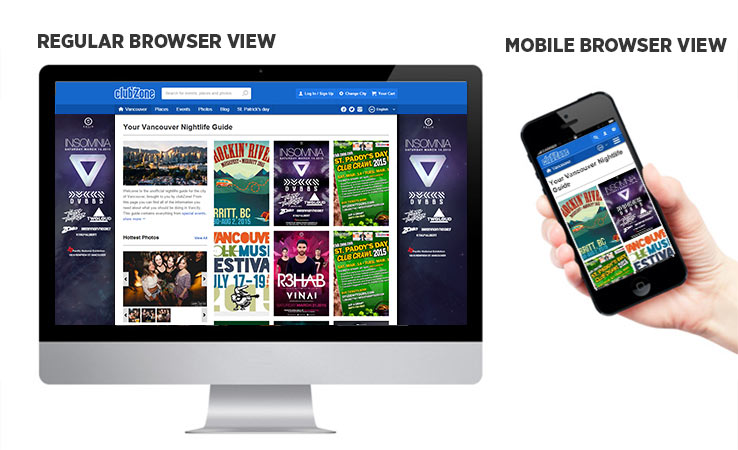 #2 Quietly Content Partnership
clubZone has formed a new content partnership with up-and-coming content startup Quietly, and their team is producing thousands of unique embedded slideshows and show lists throughout clubZone.com. These rich content sources (such as a dynamic list on Top 10 Dive Bars in *Random City Here*) are loaded with new search terms for Google.  Quietly content also ranks well in image searches, along with making websites more visually appealing to visitors.
10 Ways to Improve Your SEO
By Quietly
Everyone wants better SEO, but where to start? Here's a simple guide in making the most of your website's SEO.
Consider Your Website's Design

By Quietly

Your website should be designed with the end user in mind. Stay away from Java and consider HTML 5. Another helpful tip: older domain names are also ranked higher. Change the design, not the domain.

Write Good Content and Keep Writing Good Content

By Quietly

Content is king. Posts should be short, frequent and topical. They should also be well-written and unique. Update the site very frequently with original content.

Keywords

By Quietly

Think like the person who is searching for info only you can provide. Then, make it a keyword phrase. Place your keyword in the meta tag, title tag, URL, headline, link text and your content. Repeat.

Use Shorter, Optimized URLs

By Quietly

Make sure a keyword phrase is used in a shortened URL. Also, separating the words with a hyphen is better than separating the words with an underscore.

Link Build: Get Good Sites to Link to Yours

By Quietly

For brands to link to your site, you'll need to produce good content or simply ask for reputable and similar sites to link to yours. Inbound links should focus on quality rather than quantity.

Beware of Linking to Other Sites

By Quietly

Excessively linking to other sites can damage your own site's SEO. Link to what is relevant. Otherwise, search engines become confused and may penalize your property.

Image Attributions Are Essential

By Quietly

If you are taking the time to upload and credit images anyway, fill out all the details like title, caption, alternate text, description, etc. The keywords will help boost your post.

Sitemaps

By Quietly

Sitemaps are a list of pages of a website accessible to users. Search engines love finding links through sitemaps.

Do Not Try and 'Cheat' the System

By Quietly

There is no need to overkill with keywords in your content (aim between 3-8% repeated in the text). Also, don't cheat the system. Never hide text or redirect to another domain. Play it safe and smart.

Embed a Quietly List into Your Site

By Quietly

Quietly carousel slideshows actually have SEO embedded into them. Other slideshows do not. Consider this especially if you're focused on visuals and easy to consume content.
Here's a screenshot of the top of the Vancouver Halloween section where you can see an example of their work.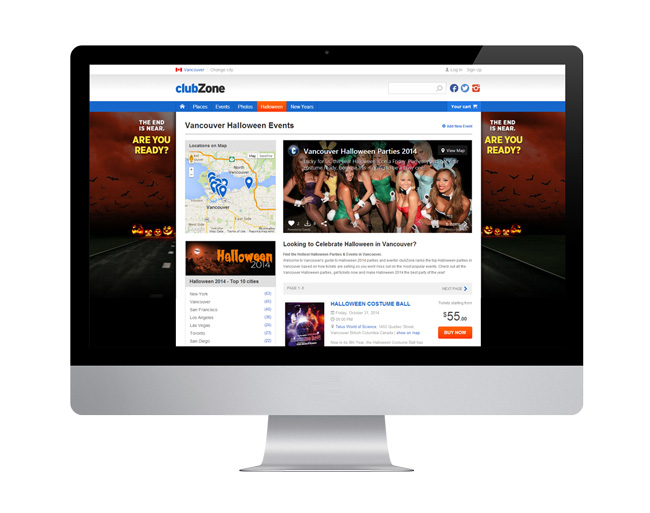 You can expect hundreds of new Quiet.ly articles added to clubZone over the next few months. Need more affordable content for your own SEO efforts?  Let us know, and we'll connect you with our friends at Quiet.ly.
#3 Deep Integration with Blog Content
Going with the theme that content is king for SEO, we've integrated a new blog deep into many pages of clubZone.  When a new blog article is posted, it doesn't just appear on the homepage, but is related back to an event and its venue, appearing on those pages, as well.  A perfect example is the article below, which was recently written on the upcoming Dooms Night event in Vancouver. You can see on the right column how it is related to an event and location:
This gives the clubZone team more opportunities to promote your venue and events from blog articles, but also gives Google more SEO friendly content to gobble up and links to follow.  We've been designing many new websites for clients and always advise them to add a regularly updated (meaning at least 3 times a week) blog to their sites.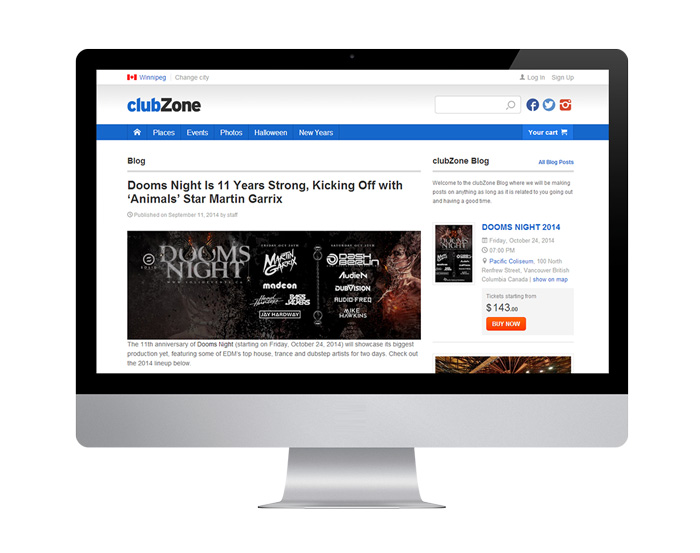 Does it work?  Just ask the folks over at Vancitybuzz.com why they are soon to be the #1 news outlet in Vancouver.
#4 SEOPressor
The new clubZone site is built on a WordPress framework, and with that we've plugged in a pretty awesome SEO optimization tool called SEOPressor.  This tool gives us the ability to set target keywords for each page, gives us back our true SEO score, and provides  specific recommendations on what we can do to improve each page.  Following their recommendations, we've seen an instant boost in our most important keywords. All client sites and our own projects (clubZone, ticketZone, etc.) are now running this tool.
Here's an example of how SEOPressor scores your pages:
It's still a bit early to see our true metrics, but we've already seen a big jump in traffic and rankings for some of our most important keywords.  With Halloween right around the corner, check out some of the success:
…and the list goes on. Thousands of #1 ranking, heavy-hitting keywords such as "Chicago NYE" that will help us drive more value to clients like you.…
The above four examples only show a small view of the literally hundreds of SEO improvements that we've baked into clubZone.com—with many more under development.  We hope you start seeing the difference in terms of guest list reservations, tickets sold and referring traffic.
If you have any general questions on how we can help YOU improve your own SEO, post them in the comments below, or contact us!